Návod na servis tlumiče
Co všechno budete potřebovat?
Tlumič
Nářadí na sundání tlumiče z kola
Svěrák
Čistící prostředky a papírové utěrky
1. Připravte se
Je nutné otypovat tlumič - zjistěte, jaký serisní kit budete potřebovat. U tlumiče RockShox zadejte sériové číslo sem a zjistíte vše, co potřebujete. U tlumiče Fox vám bude stačit čtyřmístný ID kód, který zadáte zde.
2. Změřte tlak a vypusťte vzduch
Nejprve sundejte tlumič z kola.
Doporučujeme změřit si tlak v tlumiči pro opětovné nafoukání po servisu. Poté vzduch vypusťte vzduch z tlumiče (nejlépe pomocí pumpy - vzduch musí unikat pomalu, aby nedošlo k zatažení tlumiče).
3. Sundejte vzduchovou komoru
Tlumič za vrchní oko upněte do svěráku, povolte vzuchovou komoru (mělo by to jít bez nářadí, rozhodně nepoužívejte sikovky nebo podobné nástroje) a vyčistěte ji.
4. Vyjměte staré těsnění
Vyjměte staré těsnění ze vzduchové komory a vložte nové.
Náš tip: Všechna těsnění namažte vazelínou. Pro tlumiče RockShox doporučujeme RockShox Dynamic Seal Grease a pro tlumiče Fox vazelínu RSP SLICK kick Grease, která neobsahuje lithium.
5. Vyměňte těsnění vzduchového pístu
Sundejte staré těsnění ze vzduchového pístu a nahraďte je novými.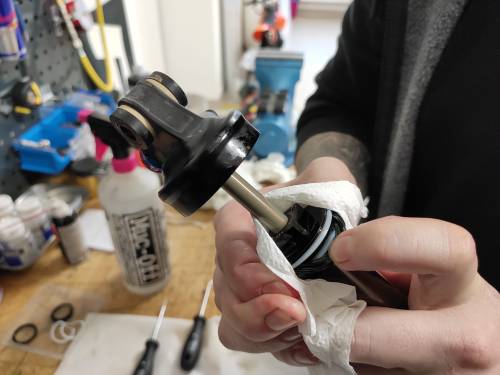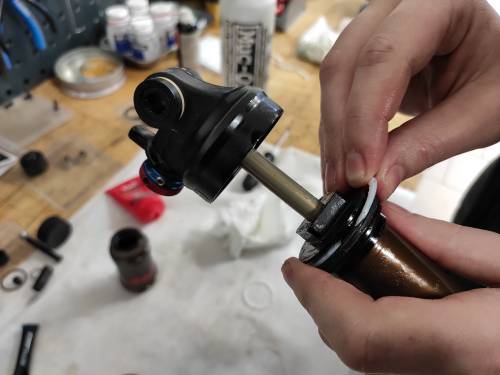 6. Aplikujte mazací olej
Aplikujte mazací olej na pístnici tlumiče a do vzduchové komory.
7. A hotovo!
Zašroubujte vzduchovou komoru tlumiče (opět bez nářadí). Nafoukejte tlumič.
Autorizované FOX a RockShox servisní centrum
Jestli se vám do servisu tlumiče nechce nebo potřebuje důkladnou prohlídku včetně rozebrání, vyčištění, namazání, přetěsnění a výměny oleje v tlumící části, tak ho přineste nebo pošlete k nám a my se o to rádi postaráme.