Tlumič i vidlice na vašem horském kole potřebují pravidelnou péči. Co výrobce to jiné doporučení, jak často tlumící jednotky servisovat. Obecně můžeme říct, že servis těchto komponentů by měl být prováděn alespoň jednou až dvakrát ročně v závislosti na počtu najetých km.
My pro vás máme několik tipů, jak předejít závadám na odpružení, které jsou způsobeny zanedbanou údržbou a vedou ke snižování jejich životnosti. Navíc jsme pro vás dali dohromady návod na domácí servis vidlice a tlumiče.
1. Čistěte
Hlavním bodem při údržbě odpružení je čistota. Vidlice i tlumiče mají kluzáky se speciálním povrchem pro minimalizaci tření, které je potřeba udržovat v čistotě. Čištění je dobré provést po každé jízdě, zas tolik času vám to nezabere. Kluzáky otřete čistým suchým hadrem a nepoužívejte rozpouštědla nebo jiné čistící prostředky.
Náš tip: Používejte blatníčky, které chrání kluzáky a gufera vidlice.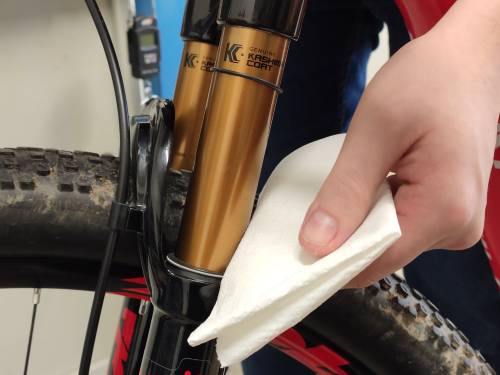 2. Mažte
Mazání kluzáků vidlice je vhodné po několika běžných vyjížďkách nebo vždy po jízdě v extrémním počasí (bláto, atd.). Kluzáky lehce namažte doporučenými přípravky (nikdy nepoužívejte přípravky obsahující teflon). Mažte v místě styku kluzáku a gufera. Poté vidlici několikrát propružte a utřete hadrem do sucha, aby na ní nezůstaly zbytky oleje, na kterém by později ulpívaly nečistoty.
Stejně tak namažte i kluzák tlumiče.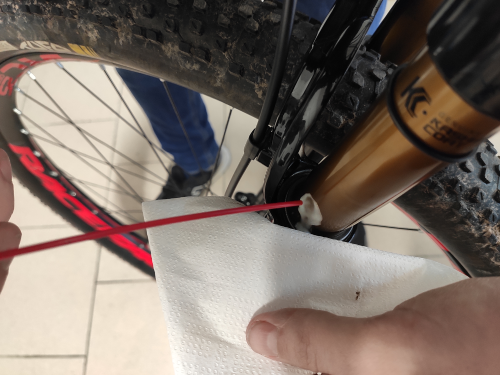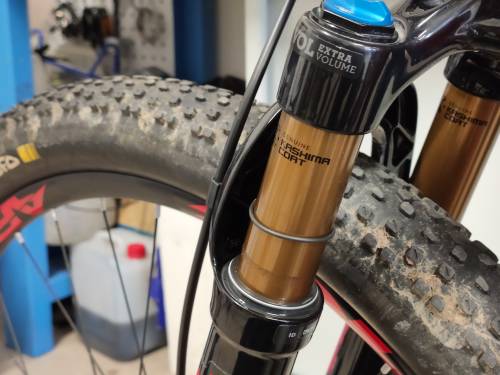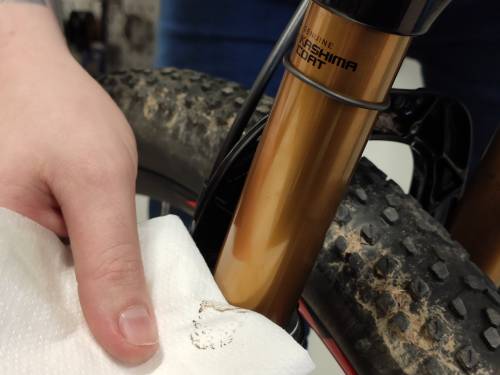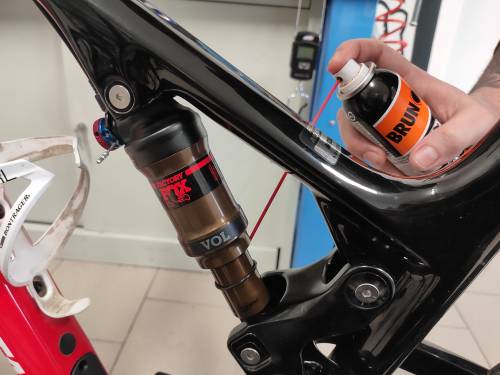 3. Kontrolujte
Pokud pružení zajišťuje vzduch, tak si během sezóny zkontrolujte tlak. K tomu budete potřebovat vysokotlakou pumpičku na vzduchové vidlice a tlumiče.
Náš tip: Zapiště si nastavení a tlak vzduchu, které vám vyhovují.
4. Měňte olej
Do vidlice se dostávají nečistoty, které mohou způsobit například zanesení ovládacích prvků nebo prodření kluzáků vnitřních nohou vidlice, proto je vhodné provádět pravidelnou výměnu oleje. Ale pokud vyměníte pouze olej, část nečistot zůstane uvnitř a čistý olej se zase rychle zanese. Pro úplné vyčištění a zajištění správného chodu vidlice doporučujeme její rozebrání a vyčištění všech součástí.