Jak se obléci na kolo v zimě? Venkovní teploty jsou ještě příznivé, ale zima je za rohem. Některé možná odradí rtuť teploměru klesající pod 10 stupňů, ale tento článek je především pro ty, kteří se ani chladnějšího počasí nezaleknou. Poradíme, jak se správně obléci v zimních měsících a možná i vy, nerozhodní, zkusíte celoroční ježdění na kole.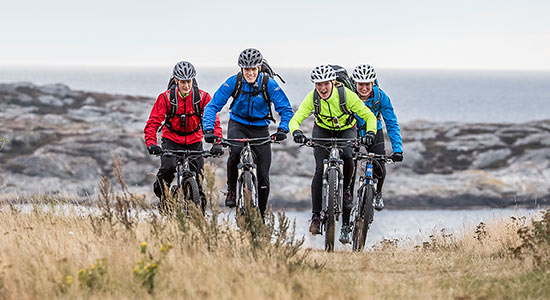 První vrstva
Začneme funkčním prádlem, ať už s krátkým či dlouhým rukávem, tedy tzv. první vrstvou. Ta by měla být rozhodně z materiálu odvádějícího pot pryč od těla a z hlediska velikosti by měla přesně padnout na tělo. To je obzvláště důležité a má to své důvody. K dokonalému odvodu potu je totiž potřeba přímého kontaktu prádla s pokožkou v co největším rozsahu. Jedině tak odejde tělesný pot správně do dalších, vyšších vrstev. Pozor na bavlněné spodní prádlo. Ač je možná velice příjemné, je pro toto použití naprosto nevhodné! Bavlna pot nasaje a nepustí jej dále, navíc pak ještě studí.
Druhá vrstva
Druhou vrstvu volíme dle aktuální teploty. Pokud se teplota pohybuje v rozmezí mezi 7-15 stupni, doporučujeme obléci zateplený cyklistický dres s dlouhým rukávem, který má uvnitř např. měkká fleecová vlákna. Materiály se mohou lišit, každá firma si hýčká a chválí své systémy. Jde o to, že dres je opět z funkčního materiálu a pot odváděný první vrstvou vzhůru propustí dále na povrch. U druhé vrstvy už je ale také důležité, aby byla z části hřejivá, proto je řeč o zatepleném dresu. Nahoru přes toto vrstvení doporučujeme už pouze vestičku či tenkou bundičku s větruodolnou membránou.
Kalhoty a rukavice
Kalhoty oblečte zateplené, např. česaným fleecem, popř. zateplené návleky na nohy. Důležité jsou také návleky na boty, ale zatím jen tenké, větru a vodě odolné. Pod přilbu např. šátek a na ruce dlouhoprsté rukavice. Ani jedna z posledně jmenovaných věcí nemusí být vybavena membránou, na to máme ještě příliš teplo…
Když přituhuje
Pokud teplota klesá pod 7stupňů, ale není ještě na nule, doporučuji na první vrstvu obléci zateplenou zimní bundu s membránou proti větru (Windstopper, popř. i proti vodě Gore-Tex). Kalhoty opět zateplené, při větším větru už z přední strany pošité větruodolnou membránou. Návleky na boty už mohou být teplejší, např. z tenčího neoprénu či zateplené membránou. Pod přilbu zvolte čepičku, která je o něco teplejší než šátek a hlavně vám ochrání i uši. Na ruce pak oblečte dlouhoprsté rukavice s membránou zabraňující průchodu větru. Kdo je choulostivější na ruce, může volit rukavice zateplené.
Když mrzne
A nyní k teplotě padající pod bod mrazu. Neexistuje jedna určitá teplota, která by byla hraniční pro jízdu na kole. Toto je velice individuální záležitost a záleží na kvalitě oděvu, intenzitě pohybu a samozřejmě na odolnosti konkrétního jedince. Pokud se tedy rozhodnete i přes nízké teploty do mrazu vyrazit, doporučuji si na první vrstvu, která je shodná pro všechny podzimní a zimní teploty, obléci zateplený dres s dlouhým rukávem a zimní zateplenou bundu s membránou. Kalhoty volte již jednoznačně zateplené s membránou proti větru, můžete pod ně použít i tzv." podvlíkačky", tedy kalhoty z funkčního materiálu s krátkou či dlouhou nohavicí. Neoprénové návleky na boty jsou vodě odolné a poměrně teplé. Pod přilbu opět čepičku, nyní ale uvnitř zateplenou fleecovým vláknem a na čele pošitou membránou.
Pozor na ruce
Ruce jsou na kole dosti choulostivé. Zkuste si vzít zateplené dlouhoprsté rukavice s membránou, popř. ve větším mrazu palčáky. Vyrábí se speciální pro cyklisty, kdy se nejedná o klasické palčáky, ale rukavice mají 3 segmenty na prsty - palec, ukazováček a prostředníček dohromady a poslední na prsteníček a malíček. Je to velice efektní, hlavně v případě řazení a brzdění. Důležitým a funkčním doplňkem při jízdě na kole v mrazu je také šátek na krk, popř. přes ústa. Přeci jen vzduch, který dýcháte, není tak extrémně chladný jako bez něj.
Tak jsme oblečeni a teď už jen šťastnou cestu a mnoho cyklistických zážitků třeba i ve sněhu! 
Jindřiška Zemanová (dvojnásobná Královna Šumavy na MTB i silnici a juniorská vicemistryně Evropy)