A set created for the toughest XC races on the planet. The individual components are made of the lightest materials, cassette with a range of 500%, X-SYNC ™ 2 converter with a long service life. Top performance combined with Eagle AXS bezdrát wireless electronic components. Set ready for the new generation of "super bikes".
The set includes a chain, cassette, derailleur, gear and cranks
converter 34 T
Standard version (6 mm offset)
length 175 mm
rainbow surfaceadjustment
SRAM Eagle AXS ™ gears
Without the need to use a cable, bowden cable or wire, SRAM engineers have new opportunities to design the Eagle AXS ovládání control design. This created a control that provides a whole new shifting experience. The ergonomic buttons can be set using the AXS ™ application to do exactly what you want. Each of the buttons can be assigned one of three functions: Shift to heavier, shift to lighter or control the telescopic seatpost. If the wheel does not moveit goes into sleep mode, then you just need to press one of the buttons to wake up.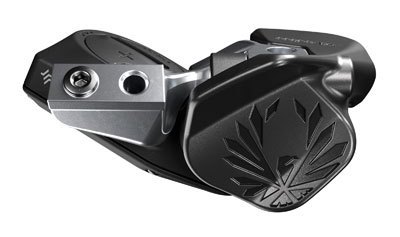 SRAM Eagle AXS az derailleur
It's not just a mechanical derailleur with a battery and a motor. The Eagle AXS ™ derailleur is also the brain of the entire AXS ™ system. Easy installation, quiet operation, high accuracy and, in addition, extended service life of the entire drive.
In contrast to the mechanical Eagle ™The new Eagle AXS ™ derailleurs have a 10 mm shorter guide for better ground clearance, the upper pulley is more forward for more chain contact with the cassette and the entire derailleur is closer to the frame.
The new Overload Clutch technology protects the Eagle AXS přeh derailleurs from impact damage. If an impact occurs, the motor is switched off and the derailleur is free to move. Immediately afterwards, however, it returns to its original position, so the rider does not even know it. The primary purpose of the Overload Clutch brake is to protect the motorderailleur, but it also protects the derailleur itself and even the frame foot.
10 mm shorter guide compared to the mechanical Eagle ™ derailleur
Type-3 brake on ball bearings
X-Horizon Actuation
Protective brake Overload Clutch
Zero weight gain compared to the mechanical system